Urban Center Bologna provides access to some of its spaces for temporary exhibits or initiatives.
> Sala Atelier is a multi-functional space equipped for meetings (workshops, presentations, conferences, classes, etc.) and for temporary exhibits.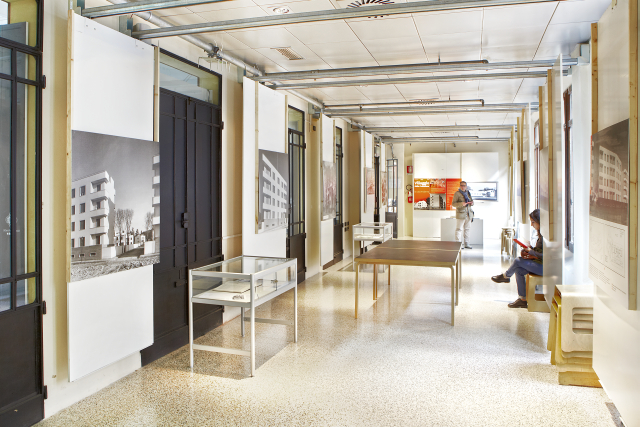 Sala Atelier can host meetings with a maximum of about 50 people (50 seats).
Urban Center Bologna offers the use of a computer, a screen for video projections and electric outlets. The entire hall has WIFI. The renter will be responsible for the arrangement of furniture (tables and chairs) and the restoration of it at the end of each event.
Sala Atelier is also equipped to host temporary exhibits, for which we will provide up to 17 display panels (1 fixed, and 16 partially mobile) and a monitor for multimedia productions.

> Sala Esposizioni is a space for exhibits with 20 mobile display panels and a screen for multimedia productions

> Corner is a small space for exhibits with 2 display panels and a monitor for hosting multimedia productions
For all inquiries regarding space availability and booking please write to Please provide a description of your event, including dates and references.
If you are planning a temporary exhibit, you must provide a description of the material on display, including the characteristics of the exhibit and the materials utilized, and certifications (wood treatment, class certification for plastic materials, etc).

Urban Center Bologna reserves the right to give permission to use the space upon approval of the content of the initiatives and their compatibility with other planned initiatives at the Urban Bologna Center. We will not host for-profit or political initiatives and/or events that have subscription costs.
The use of the space is free, while organization, traveling, graphic work and preparation costs will be responsibility of the event organizers. If the proposal is accepted, a meeting/contact will be set to discuss communication and organizational details.
Urban Bologna Center accepts no responsibility for the care of or damaged incurred to the materials brought into the spaces.